Right Outta the Gate!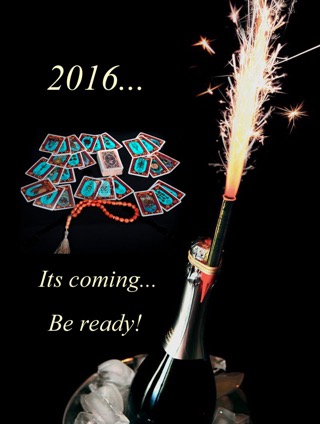 Welcome to 2016!
From the looks of things, we're going to be in for a hell of a year (again). The only thing we know for sure is that the market is uncertain, our politicians are even crazier than they ever were, and our economy is stagnant.
Still, I find that more people are willing to make significant changes in their lives and take greater risks than when they felt more secure. We might as well just go for broke. I rather like that idea… As a matter of fact, I like it so much that I'm offering my New Year Readings at 50% off. Here are the details:
PRICING
Regular price: $100, now $50

DURATION
:
This reading takes between 30 and 60 minutes
. Any of you who have read with me before know that means absolutely nothing to me… I am not chained to a clock, and I have nobody to answer to, so expect to spend an hour.
METHOD
Unlike traditional Tarot readings,
this spread is specifically designed to forecast the focus or mood of the coming 12 months. For example, yesterday I read for a client and saw that her January was most likely going to focus on a career change and possible relocation. Two hours later, she got a call from HR offering her a significant position starting in March, but she would have to relocate to Chicago. Holy shit.
SCHEDULE YOUR READING
If you are already an established client
, you may text me to arrange your appointment. If this is your first appointment with me, go to the
Contact page
and complete the email form to schedule an appointment for your reading. Your appointment will be scheduled within 24 hours.
CONFIRM YOUR READING
Using the PayPal button below
, submit $50 for this service. Once I receive confirmation of your donation, I will contact you to confirm your appointment and let you know the best number to reach me at the appointed time.
FAQ
Q:
Where do I have to go to get this reading?
A:
This offer is for telephone readings only, available 7 days a week at a pre-arranged time
Q:
Can I give this reading as a gift to someone?

A:
Absolutely! If you email me the name of the person(s) you wish to gift, I will email you a Gift Certificate that you can either print out and present in person, or email the file directly to them.
All gift certificates are numbered, so there is no danger of anyone else using it except the recipient listed on the certificate. All gift certificates include your name, your personalized greeting and reach information so they may contact me and schedule their appointment.
Q:
How long will this promotion be available?
A:
There is a
cut off date of Jan 31, 2016
to take advantage of this savings. Readings, however, may be scheduled at any time during the calendar year of 2016 so don't sweat!
Thanks for taking the time to read this, and I send you my best wishes for an amazing 2016!